Candia Farmers Market - 3rd Saturday, June to October - Next one is Sat, Oct 21
Posted on Saturday, September 30, 2023
UPDATE: The Farmers Market on October 21st has extended hours, and will run from 9 am - 2 pm with an Artisan Fair and Mini-Octoberfest.
---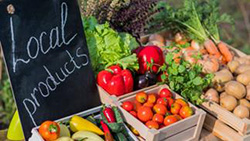 The 2023 season for the Candia Farmers Market starts June 17, 2023.
The Candia Farmers Market is held on the 3rd Saturday of the month from June thru October (rain or shine) from 9 am - 12 pm on the Smyth Public Library grounds, 55 High Street, Candia, NH.

For all information regarding the Candia Farmers Market, please visit our website at CandiaFarmersMarket.org.
Category: Town Hall News | Source: Agricultural Commission | Status: Current