Police Department
Candia Police Department
74 High Street
Candia, NH 03034
---
EMERGENCY: 911
Phone: 603-483-2318 (Office: Mon-Fri: 8:30 am-3:30 pm)
Fax: 603-483-0253
Phone: 603-483-2317 (Police Dispatch: Use after hours and weekends)
Town Directory & Contacts
---
Office Hours
---
Documentation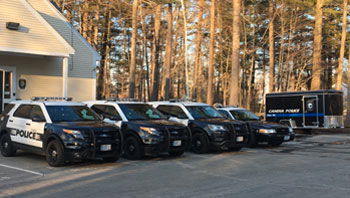 About
The Candia Police Department is a full-time department consisting of full and part-time officers, an administrative assistant and an animal control officer.
Along with performing general law enforcement for the community, the Candia Police Department also provides:
House checks for residents on vacation or out of the area
Fingerprinting during normal lobby hours
Pistol permits for residents upon completing the necessary paperwork
Officers to speak at local social organizations for crime prevention, safety tips, etc.
Copies of police and accident reports through the Administrative Assistant (fees apply)
Engraver sign-out program for residents wishing to mark belongings
Bicycle registrations
Sign up for alerts from the Candia Police Department. Find out more...
Department Roster
Michael McGillen
Police Chief
Richard Langlois
Lieutenant
Michael Bevere
Officer
Shane Pellerin
Officer
Serena Shuter
Officer
Tom Terilli
Officer

Shawn Santuccio
Officer, Part-time
Deb Martel
Animal Control Officer

Karen Merchant
Administrative Assistant
Resources