Cemetery Trustees
Candia Town Offices
74 High Street
Candia, NH 03034
---
Phone: 603-483-8101 (Selectmen's Office)
Phone: 603-857-1290 (Cemetery Sexton)
Town Directory & Contacts
---
Meeting Information
Cemetery Trustees meetings are held on the 3rd Thursday of each month at 6:30 PM in the Town Office Meeting Room.
---
Documentation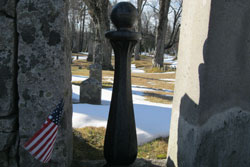 About
The Cemetery Trustees are charged with the operation and maintenance of all Town cemeteries.
The Cemetery Trustees are composed of five elected members.
In July of 2015, Cemetery Trustees formally adopted rules and regulations for their conduct of business and for the use of Candia Cemeteries by the public. To view these documents, visit the Documents & Forms page.