For sale: "Water Powered Mill Sites in Candia, NH"
Posted on Monday, May 5, 2014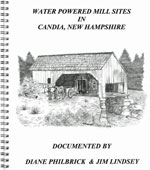 The Candia Heritage Commission announces the publication of Water Powered Mill Sites in Candia, NH documented by Diane Philbrick and Jim Lindsey.
There were as many as 15 mill sites in Candia in the 19th century and based on an 1852 map, Philbrick and Lindsey tracked them down. This 100-page book records the history of the mills and gives a photographic account of the present day archeological remains, and the granite rock work of dams and spillways.
To order this book, please visit the town office. All proceeds from this book benefit the Smyth Memorial Building renovation.
Price: $20
Source: Heritage Commission
Category: In the Archives