How to request an Absentee Ballot for the March 9 election
Posted on Wednesday, February 10, 2021
Any Candia voter wishing to complete an absentee ballot application, please
Download the "Application for an Absentee Ballot" on the Secretary of State's website.

If your request for absentee ballot is due to COVID-19, please check the "I am unable to vote in person due to a disability" check box.

Drop off the completed form in the drop box at the Candia Town Offices or mail to Candia Town Offices, ATTN: Town Clerk, 74 High Street, Candia NH 03034.
For questions, please contact the Town Clerk.
For more information about the upcoming election, visit the Candia Election page.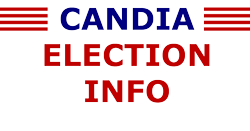 Source: Town Clerk
Category: Town Hall News