Town Clerk message: You can vote absentee until 5 pm today, Monday, March 13
Posted on Monday, March 13, 2023
Update from the Town Clerk: I will be in the office starting at 1:30 pm until 5:00 pm today for absentee ballots.
There is a provision in NH election law for absentee voting the day before a snow storm. Registered voters can come to the Clerk's office Monday 3-5 pm, fill out a request form & get a ballot. Complete it & return it to me by 5pm Monday. Feel free to complete your ballot at Town Hall.
You can also find an absentee ballot request form here:
https://www.sos.nh.gov/sites/g/files/ehbemt561/files/inline-documents/sonh/absentee-ballot-application-local-election.pdf
Donna Hetzel
Town Clerk
For more information about the upcoming election, visit the Candia Election page.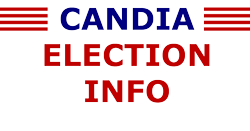 Source: Town Clerk
Category: Town Hall News