Town Moderator message: Election is Tuesday, March 14, 2023. Vote at CYAA from 6am-7pm.
Posted on Monday, March 13, 2023
Attention all those eligible to vote in the Town of Candia elections:
The polls will be open tomorrow, March 14, 2023, at 6 am at the CYAA building and closed tomorrow evening at 7pm. In the words of our governor, New Hampshire voters are a hearty bunch and a little snow will not deter them. Please be safe and I hope to see you tomorrow at the polls.
Clark Thyng
Moderator
For more information about the upcoming election, visit the Candia Election page.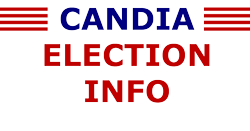 Source: Town Clerk
Category: Town Hall News