Fire and Rescue
Candia Fire and Rescue
11 Deerfield Road
Candia, NH 03034
---
EMERGENCY: 911
Phone: 603-483-2202 (Fire Station)
Phone: 603-247-5498 (Ambulance service or billing questions)
Phone: 603-639-7179 (Outdoor burning permits)
Fax: 603-483-2311
Town Directory & Contacts
---
Office Hours
Station staffed 7 days a week, with 2 EMS personnel

: 8:00am-6:00pm


Night time hours: Covered by on-call members.
---
Documentation
Fire and Rescue Announcements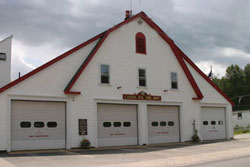 About
The mission of Candia Volunteer Fire Department is to provide a team of highly trained and dedicated personnel who prepare for, respond to and safely mitigate fire, emergency medical and other natural and man-made emergencies and disasters through prevention, education, code enforcement and timely incident response.

The department is staffed 7 days a week from 8 am - 6 pm with 2 EMS personnel. Night time hours are covered by on-call members.

Find us on Facebook @ Candia Fire Rescue.
Outside Burning Permits
Permits are required by law for outside burning in New Hampshire.
To obtain a required State of NH Fire Permit:
Call the Candia Fire Burn Permit Pager at (603) 639-7179. Leave a voice message with your name, address and call back number. Permits are normally issued between 4:00 PM and 6:00 PM daily. After 6:00 PM permits will not be issued.
- or -
Visit www.nhfirepermit.com to purchase a burn permit from the State of NH. This service is available 24 hours a day, 7 days a week, providing permits are being issued at the time.
The Forest Fire Warden and Deputy Wardens affiliated with Candia Volunteer Fire Department provide burning permits to residents of Candia at no cost.  A warden will respond to pages as soon as they are able, but please be aware this is a volunteer fire department and permit writer availability is subject to outside factors.
In addition to writing permits, permit writers are able to answer your questions about regulations and rules for outside burning.
The on-call Warden or Deputy Warden may visit your property in order to ensure the material being burned is allowable by New Hampshire state law.
As per New Hampshire state law, no fire shall be kindled outside without first obtaining a written permit from the forest fire warden (or their representative) of the town where the burning is to be done.  Permits are required for all outside burns, unless the ground is covered with snow. Please note that there is no Warden or Deputy Warden on call when the ground is covered with snow.
In the town of Candia, permits are still required if it is raining outside.  State laws are specific that any fire kindled in the rain during the day MUST be extinguished as soon as it stops raining as defined in the DRED regulations.
Any person kindling a fire without a permit is liable to the town for all expenses incurred in attending or extinguishing such fire.
No residential trash, treated wood, construction/demolition debris, tires, mattresses, etc. or brush/trees greater than 5" diameter can be burned at any time. If you burn any impermissible material, you will be subject to State fines of up to $2000.00 as well as all costs for the Department to respond and extinguish the illegal fire and for proper disposal of the illegal material.
No fires shall be left unattended at any time without being completely extinguished with water.
Always use caution when burning material on your property, make sure you have extinguishing materials close at hand, and if the fire seems to be getting out of control, contact Candia Fire-Rescue immediately.
Fire Safety Brochures
Related Links
Help & Support
988 Suicide & Crisis Hotline: Call or text 988 for 24/7 free and confidential support.
NH Statewide Addiction Crisis Line: Call 844-711-4357 if you or someone you know is struggling with addiction.
New Hampshire Fire Links
Dig Safe: Call 811 or 888-DIG-SAFE (888-344-7233) at least 72 business hours prior to digging.